Credo du Para, Canada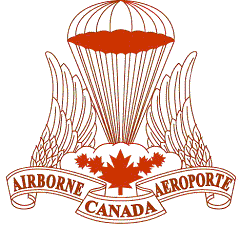 Car auparavant vous devrez lui payer le tribut qu'il exige.
Lourd tribut en vérité, fait d'énergie, de volonté, de courage, de peines et de souffrances, en un mot, tribut de total abandon de soi et d'une abnégation qui va bien au delà de la commune mesure.
C'est justement, et uniquement, ce tribut qui forgera «l'appelé», «l'élu», «l'homme pur d'entre les purs», le fort d'entre les forts, celui que partout l'on admirera, redoutera et respectera, quel que soit le climat sous lequel il vit et quelle que soit la couleur de sa peau: c'est donc ce tribut qui enfantera ce géant qu'on appelle «le Para».
Colonel Fred Gielle
--------------------------------------------------------------------
What manner of men are these who wear the maroon beret?
They are, firstly, all volunteers and are toughened by hard physical training. As a result they have that infectious optimism and that offensive eagerness which comes from physical well being. They have "jumped" from the air and by so doing have conquered fear.
Their duty lies in the van of the battle; they are proud of this honour and have never failed in any task. They have the highest standards in all things whether it be skill in battle or smartness in the execution of all peace time duties. They have shown themselves to be as tenacious and determined in defence as they are courageous in the attack. They are, in fact, men apart - every man an Emperor.
Of all the factors which make for success in battle the spirit of the warrior is the most decisive. That spirit will be found in full measure in the men who wear the maroon beret.
Field Marshall
The Viscount Montgomery of Alamein
Regimental Standing Orders
From the Canadian Airborne Regiment, 1976
__________________________________________________________
The Airborne Creed, U.S.A.
I am an Airborne trooper! A Paratrooper!

I jump by parachute from any plane in flight. I volunteered to do it, knowing well the hazards of my choice.

I serve in a mighty Airborne Force -- famed for deeds in war -- renowned for readiness in peace.  It is my pledge to up-hold its honor and prestige in all I am - in all I do.
I am an elite trooper -- a sky trooper -- a shock trooper -- a spearhead trooper.  I blaze the way to far-flung goals -- behind, before, above the foe's front line.
I know that I may have to fight without support for days on end.  Therefore, I keep mind and body always fit to do my part in any airborne task.  I am self-reliant and unafraid.  I shoot true, march fast and far.  I fight hard and excel in every art and artifice of war.
I never fail a fellow trooper.  I cherish as a sacred trust the lives of men with whom I serve.  Leaders have my fullest loyalty, and those I lead never find me lacking.
I have pride in the Airborne! I never let it down!
In peace, I do not shirk the dullest duty nor protest the toughest training.  My weapons and equipment are always combat ready.  I am neat of dress -- military in courtesy -- proper in conduct and behaviour.
In battle, I fear no foe's ability, nor under-estimate his prowess, power and guile.  I fight him with all my might and skill -- ever alert to evade capture or escape a trap.  I never surrender, though I be the last.
My goal in peace or war is to succeed in any mission of the day -- or die, if needs be, in the try.
I belong to a proud and glorious team -- the Airborne, the Army, my Country.  I am its chosen pride to fight where others may not go -- to serve them well until the final victory.
I am a trooper of the sky! I am my Nation's Best!  In peace and war I never fail.  Anywhere, anytime, in anything -- I am AIRBORNE!
Army, Fort Lee, Va, 1977